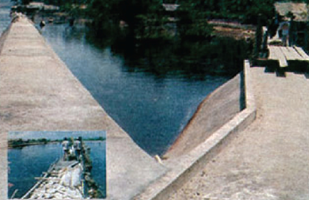 Barangay Infrastructure Development Program
Surigao City, Surigao del Norte
1998
The program operates by utilizing the 20% development fund of the local government unit to purchase the construction materials with the barangay residents providing the counterpart labor and other local materials. The key features of the program include the provision of basic infrastructure support such as concreting of roads connecting the different mainland barangays; construction of farm-to-market roads linking the purok/sitios to the main highway; provision of water system (Level ll) in almost all barangays: construction of seawalls, causeways and waterways, ports, multi-purpose pavements, recreation centers, daycare centers, barangay health centers and bridges linking island barangays and far-flung barangays to the mainland. People's organizations (POs) were also formed and strengthened in all barangays.
The provision of basic infrastructure support has greatly improved access to the rural areas benefiting more than 104,909 residents of the city. Farm produce can easily be transported to the market and buyers can readily go to the farm to buy their products. The provision of Level II water systems has significantly improved the quality of life of every family member. It has facilitated the empowerment of the rural people through self-help or volunteer work. The barangay residents were oriented on the philosophies of community development, self-reliance, and "Christian virtues". The Bayanihan (collective effort) through takay or alayon were undertaken every Saturday. They maintained the cleanliness of the community and school buildings, The program had succeeded in instilling in the minds of the targeted beneficiaries that rural development programs and projects are designed to uplift their standards of living and quality of life, and they play a key role in the project initiation, construction and maintenance of these facilities. Mobilizing POs in the different barangays was also a big boost in uniting the efforts of the local people. Irrigation system associations, water system associations, and other POs in the area were used as vehicles for sustainable self-help projects. Sustainability of the projects was attained when major stakeholders developed a sense of ownership of the project.
This program is recognized as one of the Ten Outstanding Programs in the 1998 Galing Pook Awards.