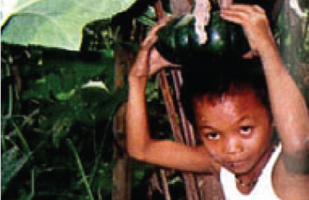 Gulayan at Palaisdaan Alay sa Kabataan
Negros Oriental
2005
Strong, intelligent and capable people usually have one thing in common: good nutrition at an early stage. Oriental Negros Governor George P. Arnaiz realized this early and conceived a program in 2002 dubbed GPAK, or Gulayan at Palaisdaan Alay sa Kabataan.
The concept was simple: Children were given garden tools, fertilizers, and vegetable seedlings to be planted on unused lots in their schools.
Ponds were also built so they can tend tilapia fingerlings. The harvests provide the children and their families the required vitamin and protein daily requirements.
Before GPAK, the province devoted 1,456 hectares for vegetable production. Upon implementation, an additional 139.1 hectares were used for growing vegetables–contributing 9.7% to the total vegetable area and 668 metric tons of 8.4% in production.
A total of 41 vegetable varieties were planted. Twenty-three tilapia ponds were set up in schools with a total land area of 900 square meters and can raise 4,500 fingerlings yearly.
The ponds have so far already produced 1.8 metric tons of fresh tilapia, serving the protein requirements of the community.
GPAK thus helped solve the malnutrition problem of Oriental Negros, with cases steadily falling to 23% of the province's population from 39% in 2002 and 27% in 2003.
GPAK also helps promote environmental protection by teaching students environment-friendly technologies such as vermiculture. Food produced under the program are thus safer and more nutritious.
As an offshoot of the program, parents are now being encouraged to cultivate their own vegetable gardens at home. The seedlings are being distributed through their children from the schools. The Parent Teachers and Community Associations (PTCA) have volunteered to conduct information drives in starting vegetable gardens and tilapia ponds at home.
Schools have also benefited from the program. Revenues generated from the sale of vegetables range from P3,000 to P18,000 a year. The income will fund various school programs and other necessary infrastructure.
While initiated by the provincial government, GPAK has already taken a life of its own. The community has started owning the program and has been creative in solving their own problems.
"If you feed a child well, you can help him think well. And that is what we are doing through GPAK," said Governor Arnaiz.
This program is recognized as one of the Ten Outstanding Programs in the 2005 Galing Pook Awards.