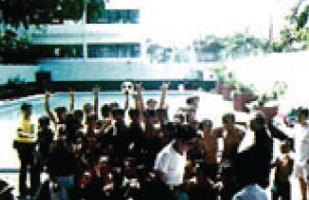 Molave Youth Home
Quezon City
2005
There is still such thing as a free lunch and in Quezon City, this courtesy is extended to minors who had a run-in with the law.
The local government of Quezon City, however, is not doing this out of charity. The Molave Youth Home, where accommodations are free, is the city's alternative to throwing minors in cramed jail cells together with hardened criminals.
"Youth offenders need to be treated with love," said Mayor Feliciano Belmonte, Jr. "They should be treated differently from criminals."
Built in 1973, the Molave Youth Home hardly qualifies as a fresh concept. The incumbent administration simply poured in more money into an aging facility and gave the plight of minors a harder look. The effort turned out to be a lifesaver to hundreds of those called "youth in conflict with the law."
City jails are notorious for turning a blind eye on the welfare of children who have been detained on various charges. In a penal system beset by lack of funds, it would be easy to lose minors in the listless sea of adult convicts.
The mayor believes guidance, caring and the acceptance of a loving family can point children towards the right path.
Of the 1,114 minors who went to Molave from 2000 to 2004, only 26 became repeat offenders. The mayor said three out of 10 minors are not even from Quezon City, but the city has taken them in as well.
Minors normally stay in Molave for around eight months, but this has been cut short to four, which is a positive indication. There are 180 to 200 of these minors at any given time. Of the lot, only 10% are female. Most of them are poor and come from dysfunctional families.
The children are supervised by social workers and given counseling and education during their stay. Once released, the city keeps tab on the children's progress, monitoring and tracking them through their families.
This year, Quezon City plunked in P7 million into Molave. Improvements to the facility are also moving at a frenetic place, with a multipurpose sunning and recreational area nearing completion to the tune of P5 million.
Molave is now also receiving support from non-government organizations and religious groups. It is now being packaged as a "social laboratory" for visiting local government units and schools.
This program is recognized as one of the Ten Outstanding Programs in the 2005 Galing Pook Awards.